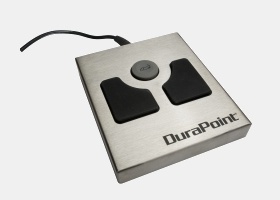 DuraPoint® - THE TOUGHEST INDUSTRIAL MOUSE IN THE WORLD!
Drive a truck over it. Throw it off a building. Or just use it 24/7 in your process control operations or on your manufacturing floor. DuraPoint dominates. It has no moving parts (nothing to clog up or break) and is maintenance-free. It's also environmentally sealed, waterproof, and impervious to atmospheric contaminants, vibration, sound waves, and physical shock. DuraPoint is available in both stand-alone and console mountable versions.
DuraPoint is suitable for hazardous area usage, class 1 division 2, groups A, B, C and D. It is designed to meet NEMA 4X, 6P, 12, and 13 standards.
Product Information
Related Products