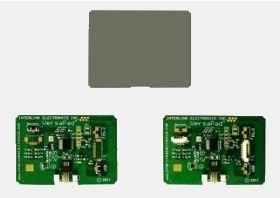 The VersaPad is an input touchpad solution for fingertip-based cursor pointing or stylus-based pen input for electronic signature and character recognition applications. The sensor outputs both position and force data, which can be used as a user interface for laptops, mobile phones, digital media players, or other portable electronics devices. "Wake on touch" functionality allows for low power consumption for battery-powered devices. Various graphic overlay materials, including metallic, can be used to create unique design aesthetics.
The VersaPad touchpad is Interlink's mousing solution for OEM and rugged applications. The module's tough, moisture resistant surface can be used with a finger, stylus, or glove, even in harsh environments.
The touchpad enumerates as an HID mouse with Left and Right-Click capabilities using the native operating system's mouse drivers. A Hardware Development Kit is available (P/N 54-0007).
...Or

Also available in AntiMicrobial version.
For more information Click Here
Header Wire & Cable Options
Bare wire harness
PN 14-16576
USB Type A
with strain relief
PN 14-00108
USB Type A
PN 14-00054
Applications
Industrial Computers/
Panel PCs
Rugged/Military
Notebook Computers
Desktop Keyboards
Handheld PCs
Signature capture
products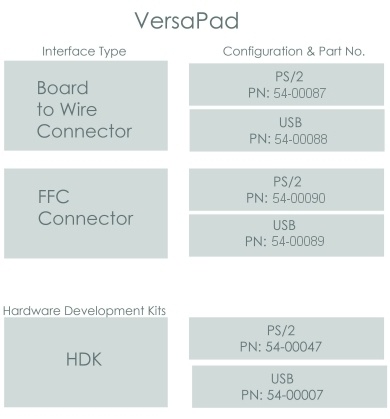 Download VersaPad PS/2 Drivers:
Integration Information
VersaPad sensor is mounted on a one-sided PC board with the circuit on the back and the sensor on the top. The controller chip used for the board is Microchip PIC18F14K50. The module is available in both USB or PS/2 versions, each of which is available with one of two connecting cable options.
Additional application and integration details are found in the Integration Guide, which is downloadable here (see sidebar).
Product Information
Related Products