Inquire About Interlink Electronics' Best Price Guarantee!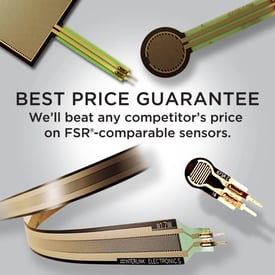 Utilizing its 35 years of experience and vertically integrated production chain, Interlink is able to supply the highest quality force sensors on the market at the absolute best prices. We are so confident in our capabilities that if you find a competing force sensor comparable to a model in our FSR® 400 series offered at a lower price, we will not only meet that price, but beat it.
To qualify, please submit verification of the competitor's price by completing the secure form on this page and either providing a link to the competing product's purchase page or uploading an image, document, or .pdf of the competitor's ad, receipt, or quote.
The competing item must be in-stock, available for delivery, and manufactured at an ISO 9001 compliant facility.
We reserve the right to limit or cancel this offer at any time. Terms and conditions apply.*