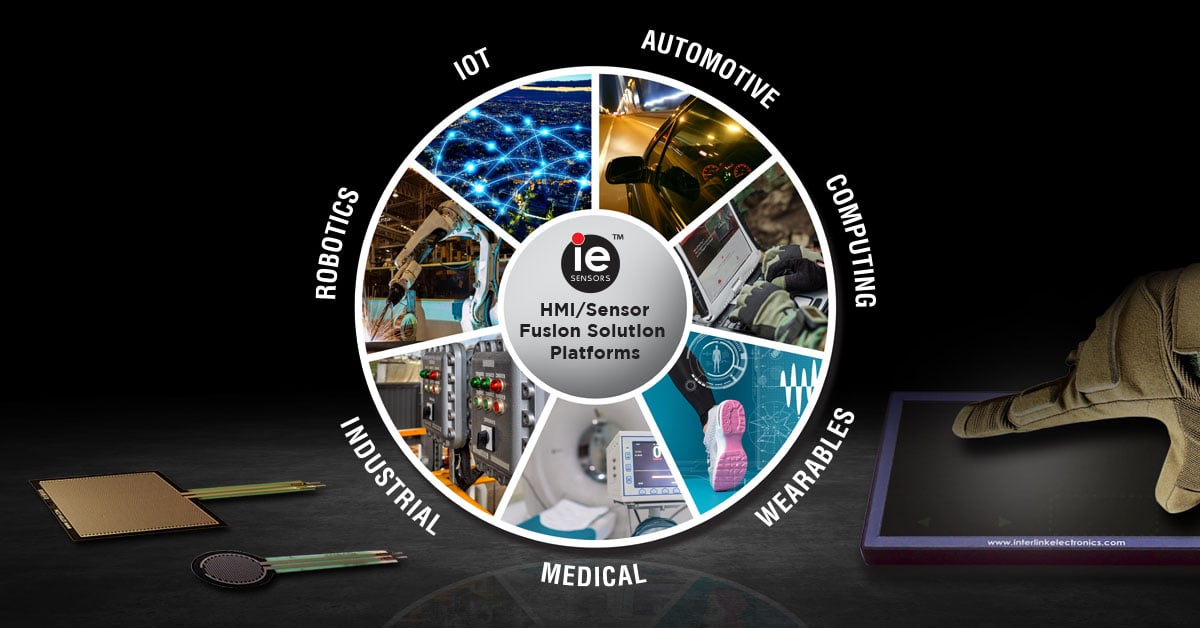 The many applications for force sensing resistors and the new frontiers opened by the emergence of the Internet of Things.
Contents:
The incorporation of technology into every nook and cranny of our professional and personal lives has created a strong and increasing demand for human machine interfaces to interact with these systems and sensors to collect data from them. As deployment of IoT systems ramps up, demand will increase even more, making the segment ripe for growth.
Back in 2012, the sensor market was expected to reach a ceiling of under $1 billion, but today, it is projected to keep growing at a consistent pace for the foreseeable future. According to a recent report from Market Research Future, current projections show the force sensor market approaching $3 billion by 2023, with a compound annual growth rate (CAGR) of 6 percent. (These numbers include all styles of force sensors—resistive, capacitive, piezoelectric, etc.)
In the field of Force Sensing Resistors®, Interlink Electronics is a trusted leader, with a proven track record and major customers in a wide variety of industries. The following examples represent just a fraction of the numerous applications that employ Interlink's FSR technology.
Rugged Laptop Computers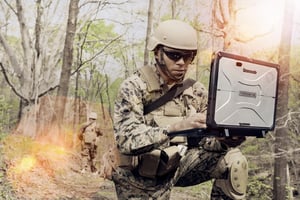 The world's premier manufacturer of rugged laptops has been using Interlink's rugged VersaPad resistive touchpad since 2011. (A number of other manufacturers have since adopted the platform as well.) Standard laptops that are used mainly at home, the office, or coffee shops—all locations with very narrow ranges of environmental conditions—employ capacitive touchpads, as they are more sensitive and require a lighter touch to use. Touchpads that use resistive sensors, on the other hand, use force sensing to detect position and are ideally suited for operation in dirty, wet, dusty, and inclement environments, including those that are extremely hot or cold. It can even be manipulated while the user is wearing gloves.
A longtime disadvantage of resistive touchpads—the lack of support for multi-touch commands—has been overcome in the new VersaPad Plus, which supports two-finger pinch-to-zoom and scrolling, among other gestures. For more information about this and similar applications, you can download our whitepaper Applications of Force Sensing Technology in Consumer Electronics Devices and Systems.
Medical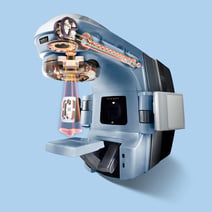 The FSR family of devices is used in a variety of medical applications—including hospital bed monitors, infusion pumps, occlusion detectors, bionic limbs, respiratory ventilators, and MRI control devices.
One of our longest customers in the medical field employs our force sensors on its radiotherapy machines during cancer treatments. In order to most effectively target the malignant tissue, the head of the radiotherapy device can rotate around the patient. To prevent the machine from striking anything or anyone while it is in use, the applicator that extends from the head is fitted with force sensors that will immediately shut down the machine and alert the operator if it makes contact with the patient or anything else.
For additional information, download our whitepaper Enhancing Medical Devices and Personal Healthcare Products with Force Sensing Technology.
Automotive
A pair of major automobile manufacturers have incorporated custom Interlink force sensors into their automobiles in two very distinct roles. In one application, they were used for extending a car's door handle, which was designed to remain retracted and flush with the door panel when not in use. A force sensor built into the handle would detect the user's touch and extend it for them to open. Another manufacturer employed a custom FSR solution that replaced mechanical buttons with a seamless touch-sensitive surface for its dashboard controls.
Future Applications
The examples outlined above reflect just a small fraction of the myriad applications for force sensors. And the segment continues to expand thanks in significant part to the growth of the Internet of Things (IoT), which has introduced a whole new set of possible applications for a wide range of sensor types, including Interlink's signature FSRs.
To get an idea of how the adoption of force sensing technology into more and more devices will impact your work and personal life, imagine this scenario: You end your shift and take off your work boots, which have safety force sensors in them to detect if a worker has fallen down or otherwise become incapacitated. Your car drives you home and easily finds a parking spot on the street via an app that uses pressure sensors to track empty spaces. After entering your connected home, you pull up a recipe on the display of the smart refrigerator, and the appliance automatically informs the oven what meal it will be cooking and preheats it to the required temperature while you pick and prepare the raw ingredients. As the meal is cooking, the oven tells the server robot to set the table—which employs pressure sensors to ensure it applies enough pressure to firmly grip its load without damaging any plates or glasses.
After being reminded to take your nightly medication via an app—which will know if you have already consumed a dose thanks to a pressure sensor on the cap that monitors when and how many times it has been opened—you can read yourself to sleep, letting the force sensors in your bed turn off the lights after you have entered REM sleep and been laying still for a certain length of time. And you'll rest with additional peace of mind since, in addition to the break-in and optical sensors that protect your smart home, force sensing resistors in the floor can detect any unwanted visitors moving around and alert you.
Given the pervasiveness of wireless networking and the rise of low-power wide-area networks like LoRaWAN, the possible uses for force sensors in smart homes and buildings are only limited by the imaginations of the coming generation of innovators and visionaries.
How Can I Include Force Sensing Technology in My Product?
If you or your customers manufacture consumer, commercial, or industrial products, take some time to think about ways in which force sensors or other sensing solutions can enhance those products with new dimensions of functionality. But the hard lifting isn't all up to you. Connect with our customization team to discuss your needs and ideas in detail.