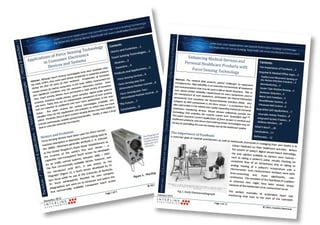 White Papers Included in Download
FSR in Consumer Electronics
This paper reviews the various technologies available, and classifies them by the applications and products to which they are most suited. Particular focus is given to force sensing devices and their ability to provide continuously variable control functionality. Finally, it takes a brief look at what lies ahead for the industry.
FSR in Medical/Healthcare Products
This paper examines current applications of force sensors in medical and healthcare products, and shows that evolving sensor technologies may be the key to controlling the ever-increasing cost of the healthcare system.