The enhanced capabilities of the new force sensors and rugged touchpad open up a new frontier of applications.
With the recently announced upgrade to its family of Force Sensing Resistors (FSR®) and the introduction of the VersaPad Plus™, Interlink Electronics has reasserted itself in its core fields of printed electronics and force sensing while continuing to evolve as a leading full-featured electronics solutions provider. The new trio of products represents the initial step in a strategy to grow Interlink's product catalog through both innovation and acquisition. In this post, we will familiarize you with our new series of products and introduce their impressive new capabilities.
The FSR X™ and FSR UX™
Interlink is the leading name in FSRs—piezoresistive sensors that generate variable output depending on strength of the force applied to them—and for good reason. The company's founder invented the technology in the late 1970s and introduced its first products to market in 1985. Since then, Interlink has maintained its position at the technological vanguard, continuing to expand its product lines and the development of custom solutions to meet specialized customer needs.
What's New?
This latest announcement marks a major step forward in force sensing technology. The graph illustrates the remarkable increase in dynamic sensing range offered by the new FSR X and FSR UX series. The improved ranges are great for applications that require greater output variance based on the pressure detected. Not only do they allow the measurement of greater degrees of force, it also means that the sensors can register changes in force with greater sensitivity.
With the addition of the X and UX to Interlink's catalog, designers and engineers can now choose from three physically compatible sensor series with distinct capabilities to integrate into their products. Through careful evaluation and consultation with our knowledgeable engineering staff, they will determine which sensitivity level best satisfies their project requirements.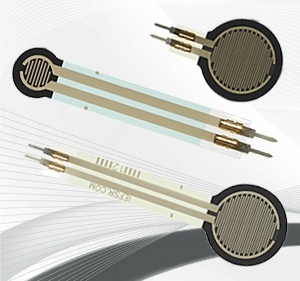 Applications
Along with their increased sensitivity ranges, the inherent robustness of FSRs make the new sensors a great choice for applications that require operability in harsh, dusty, wet, or intemperate environments like automobiles, factories, or medical facilities. They also boast a super-slim, flexible form factor that makes them easy to integrate into designs where space is at a premium or in which the sensor will be exposed to regular movement, such as on pieces of wearable technology. FSRs are also apt choices for wearable tech because their rugged construction makes them resistant to the unpredictable circumstances to which they will be exposed, including dirt, sweat, and temperature changes.
Customization
Like the basic FSR series, the new X and UX families comprise a selection of standard sizes and shapes with a variety of connector types. However, we know that every application is unique and that your specific job may require different parameters than those available in our off-the-shelf line. In these cases, we work with companies to customize our technology for in-development applications or to incorporate it into existing applications.
Curious about how the FSR X and FSR UX series can fulfill your specialized needs? Find more in-depth information on their product pages. If you would like to discuss how the new sensors can better serve your needs, get in touch with a representative.
VersaPad Plus
The VersaPad Plus is the latest in Interlink's line of robust resistive touchpads, which are incorporated into the products of the top three leading manufacturers of rugged laptops in the world. This latest version not only retains all the advantages of previous models, but also adds new features that defy conventional wisdom about the capabilities of resistive touchpads.
What's New?
The most radical change to this model is noticeable right away: its increased size. With an active area of approximately 11 cm × 6 cm, it is the most expansive resistive touchpad on the market. This extra space lets users exercise more precision when guiding the cursor, giving them greater control over the task at hand. Interlink's customers also asked if it would be possible to add multi-touch and gesture detection capabilities to the device to make it more closely match the functionality of capacitive touchpads. Interlink responded by incorporating comparable features to the VersaPad Plus, whose larger surface makes performing two-finger gestures less of a challenge. It's the first and only rugged resistive touchpad available on the market to offer these features.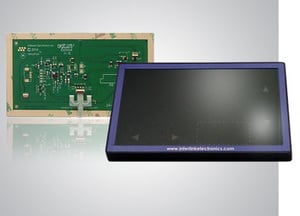 The Resistive Advantage
In addition to its new capabilities, the VersaPad Plus still has all the attributes of its predecessor that make it uniquely qualified for rugged use in settings like factories, auto repair shops, and military theaters of operation. Unlike capacitive touchpads, which are unreliable if wet or too dirty, the VersaPad can operate in even the most extreme conditions. In fact, the touchpad is so resilient that, when integrated properly, it meets the IEC IP6X standard, certifying that no dust whatsoever can infiltrate the device.
It's no surprise that workers operating in these harsh environments often wear gloves while going about their tasks. This poses a problem for capacitive touchpads, because bare skin or specially designed accessories are needed to use capacitive. However, resistive technology only requires pressure to operate, meaning it can be used while wearing gloves, with a stylus, or even with an impromptu stylus. You can get a more detailed look at the VersaPad Plus on its product page.
Take the Next Step
If you are curious about any of our new product lines and how they can help you or your business, please get in touch. Our team would be happy to provide additional literature on any of the products mentioned or discuss your individual needs one-on-one.