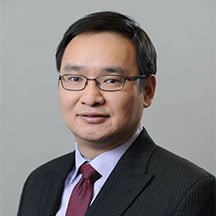 As Vice President of Engineering & Advanced Materials, Dr. Gene Chen heads up Interlink's R&D and materials science laboratory in Camarillo, Calif., and directs its global engineering team.
Chen arrived at Interlink with more than two decades of experience in electrical engineering and had managed teams and projects in a wide variety of fields, including force sensing technology. Prior to joining Interlink, he was CTO at force sensor company New Degree Technology, where he led its R&D and product development teams. His diverse, interdisciplinary background has also included roles managing projects working on nanomaterials and advanced materials for applications ranging from LEDs and OLEDs to semiconductors to dielectric coatings for spaceships. Chen has also served on numerous grant review panels for the NSF and Department of Energy.
Chen earned a doctorate of philosophy in electrical engineering—focusing on electro-physics and microelectronics—from the University of Maryland, College Park. An active member of the scientific community, he holds 14 patents, has published 17 scientific papers, and has sat on multiple peer review panels.