World-leading trusted advisor and technology provider in printed electronics, human machine interface (HMI), and sensor fusion solutions


Thirty-four years delivering high quality and high volume sensors and sensing solutions across industrial, consumer, medical, automotive, and IoT markets


Vertically integrated competencies across materials science, hardware engineering, software engineering, in-house flexible hybrid electronics manufacturing, product engineering, and system integration
Interlink Electronics invented and patented Force Sensing Resistor (FSR®) technology in 1985, and we have led the industry ever since.

Our latest innovation adds two new FSR families to our product line, as well as a new version of our VersaPad rugged touchpad device. The FSR X™ and FSR UX™ series and the VersaPad Plus™ offer next generation performance characteristics, providing engineers and designers with the ability to find exactly the right fit for their needs.
Overview

You have customers that require a solution capable of withstanding the harshest environments—and the deep cleanings required afterward. But they also want the functionality they are used to having on standard trackpads.

Interlink Electronics understands this need and has created the VersaPad Plus™ Human Machine Interface (HMI) device for rugged and harsh environment applications requiring all-weather, gloved operation, ultralow-power operation, and robustness against Electromagnetic Interference (EMI).

With the largest surface area available in the industry, newly supported multi-touch actions such as pinch & zoom are easily accomplished on VersaPad Plus™.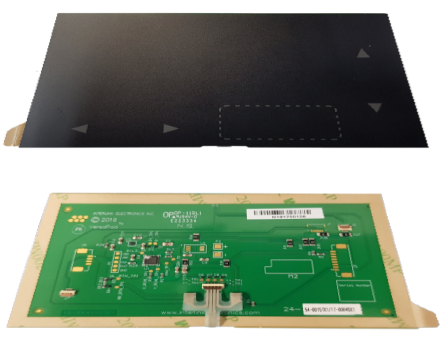 Unique Form Factor
Compatibility with insulating or conductive touchpad surfaces
Scalable/reconfigurable touchpad size and aspect ratio
Interactive User Interface
Pressure sensing
Multi-touch and gesture detection
Accidental touch rejection
Haptic feedback option