World leading trusted advisor and technology provider in printed electronics, human machine interface (HMI), and sensor fusion solutions


Thirty-four years delivering high quality, high volume sensors and sensing solutions across the industrial, consumer, medical, automotive, and IoT markets


Vertically integrated competencies across materials science, hardware engineering, software engineering, product engineering, system integration, and in-house flexible hybrid electronics manufacturing
Interlink Electronics invented and patented Force Sensing Resistor (FSR®) technology in 1985, and we have led the industry ever since.

Our latest innovation adds two new FSR families to our product line, as well as a new version of our VersaPad rugged touchpad device. The FSR X™ and FSR UX™ series and the VersaPad Plus™ offer next generation performance characteristics, providing engineers and designers with the ability to find exactly the right fit for their needs.
Overview
You asked us for an increased dynamic sensing range, enhanced precision, and stability. We are proud to deliver all three in our next generation sensors. The FSR X™ and FSR UX™ series give you the flexibility you require to develop the best solution for your application.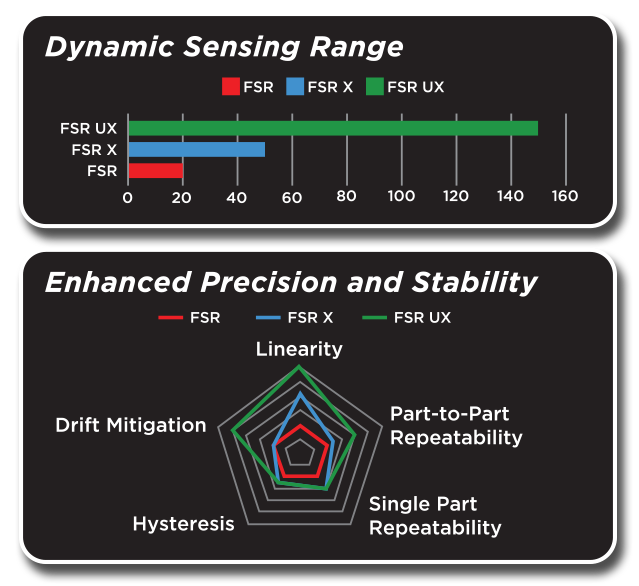 Features & Benefits
Actuation force as low as 0.3 Newtons
Sensitivity range up to 150 Newtons
Operable with bare or gloved fingers—even when wet or contaminated
Robust: tested to 10 million actuations
Ultrathin
Simple and cost-effective to integrate
Customizable size, shape, and length
Compatible with metal, plastic, and other surface materials
Differentiates between intended and unintended touches
Antimicrobial protection (optional)