What Is a Force Sensing Resistor?
The Force Sensing Resistor (FSR) was invented by Interlink Electronics and first brought to market in 1985. And while the technology has improved vastly in the interim, its fundamental architecture remains the same.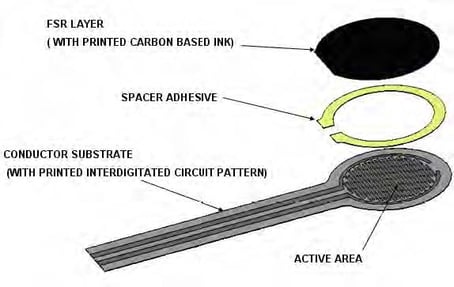 At their core, FSRs are devices that produce a decrease in electrical resistance as more physical force or pressure is applied to it—putting them in the broader category of piezoresistive devices. Typical construction consists of a membrane-like flexible substrate that is printed with an interdigitated circuit pattern. When no pressure is applied, the circuit remains open, and electricity is unable to pass from one wire to the other. A spacer is then fixed to this substrate to separate it by a small air gap from the second substrate, which is coated in a conductive ink. When force is applied to the device, the conductive substrate is pressed against the printed circuit substrate, allowing electricity to flow from one wire to the other. The amount of electricity that is able to flow within the circuit depends on the pressure exerted on the FSR, as greater pressure brings more of the conductive material in contact with the wires and ups the electrical output in a predictable way, allowing them to detect changes in force as well.

This relatively simple construction belies the Force Sensing Resistor's incredible versatility. Cost-effective and capable of being manufactured in a wide variety of shapes and sizes, FSRs are used in myriad industries, including automotive, robotics, medical, and consumer electronics, just to name a few. Now that you know what a Force Sensing Resistor is, please browse our collections above or get in touch with us today.