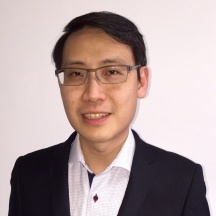 Dr. Albert Lu joined Interlink on February 3, 2014 and is based in Singapore at our wholly owned subsidiary Interlink Electronics Singapore Private Limited. As vice president of technology, Dr. Lu's responsibilities include developing strategic technology and product roadmaps, identifying synergistic R&D partnerships and funding opportunities, leading the internal R&D team, and maintaining Interlink Electronics' competitive advantage in the human-machine interface (HMI) technology landscape.
Prior to joining Interlink, for over 15 years Dr. Lu had made significant R&D contributions to the Singapore Institute of Manufacturing Technology (SIMTech), which develops high-value manufacturing technology and human capital to enhance the competitiveness of Singapore's manufacturing industry. SIMTech is a research institute of the Agency for Science, Technology and Research (A*STAR). Dr. Lu's most recent role was Program Manager of the Large Area Processing Program, where he established and spearheaded Singapore's key R&D facility and pilot line for roll-to-roll manufacturing of functional films and printed electronics. In his other technology leadership roles at SIMTech, Dr. Lu has orchestrated R&D collaborations and industry consortia in disruptive and emerging technology platforms that included embedded passives, broadband communications, and electronics packaging with multinational corporations and local enterprises.
Dr. Lu earned both Ph.D. and B. Eng. in electrical engineering from the University of Manchester Institute of Science and Technology in the U.K. Dr. Lu also received the Lee Kuan Yew Award for Mathematics and Science in Singapore and the Institution of Electrical Engineers Prize in the U.K.